Javascript is required to browse this site. Please enable it in your browser.
WORLD CLASS, HIGHLY VERSATILE DRUM TRACKS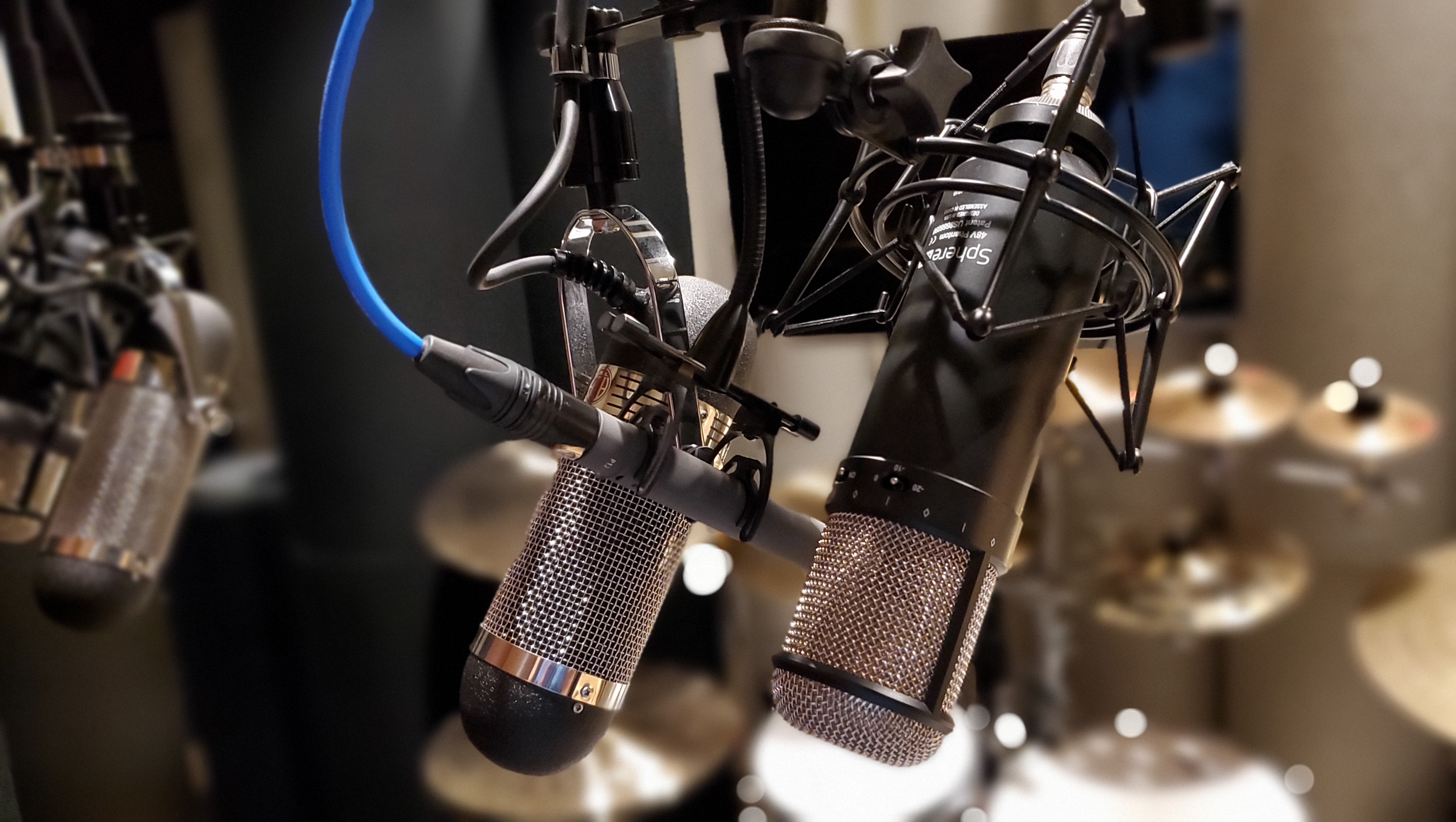 OVERVIEW
Dominic Guss comes with nearly 40 years of experience in both session drumming AND recording engineering and production. He has worked with internationally recognized artists including Tim Reynolds, Boyd Tinsley (Dave Matthews Band) and Chad Wackerman, to name a few, as well as hundreds of other artists over many years.
During my long and never-ending relationship with session and live drumming, recording, and production, my main goal has always been to achieve the "ultimate drum sound and performance," both live and in the studio. Keep in mind that holding the title of session drummer does not automatically make you a recording engineer, contrary to what many drum tracking services may imply or want you to believe. Personally, I have nearly four decades of professional experience in both fields. Drums just happen to be one of the most difficult instruments to record, and I have spent the bulk of my experience heavily studying and adopting all of standard drum miking techniques known in the industry. Over time, however, I came up with my own techniques, and use them exclusively now in all of my productions today. I am also hyper-aware of acoustics and the important role they play in the final product.
HOW MY DRUM TRACKS STAND OUT OVER THE COMPETITION
Here is why my drum tracks are considered unparalelled in versatility, thoroughly satisfying a broad spectrum of music and production styles. I am able to acheive this by utilizing:
MY OWN ADVANCED ACOUSTICALLY TRANSPARENT "ROOMLESS" ENVIRONMENT
In order to attain the most versatile and "workable" drum tracks, I have essentially removed the room from the equation, actually giving you more to work with in post. You are no longer stuck with boxy or other types of room sounds that don't match well with your tracks. Even though my tracks stand up well on their own, having very clean base tracks to work with allows you to get more out of your own effects, and ultimately allows many more sound options.
Depending on the size of the recording space, completely removing the room sound can be a very expensive and daunting task, as large masses of carefully placed broadband absorption must be utilized that cover the wide range of frequencies a full drum kit is capable of producing. Placing foam or even broadband panels on walls and in corners pales in comparison to what I have achieved in my recording space, of which has been carefully measured using my own high end measuring equipment.
CAREFULLY CHOSEN AND STRATEGICALLY PLACED MICS PERFECT FOR THE JOB (NO EXPENSE SPARED) UTILIZING 40 YEARS OF ENGINEERING EXPERIENCE
My studio has a mic locker of over 50 microphones that provide satisfying results in capable hands from any musical performance. No one mic is perfect for everything, and I have worked with all of the famous models, ultimately choosing what I feel are the best to attain the most versatile and satisfying tracks. This involved decades of experimenting with placement of various models in my current studio alone, ultimately settling on what I feel is the least amount of compromise in my setup.
WIDE VARIETY OF HIGH END PREAMPS AND OTHER OUTBOARD GEAR
My studio is equipped with both well known and boutique high end preamps and other outboard gear specifically chosen for the task of helping to produce world class drum tracks. You can view our current gear list
here
.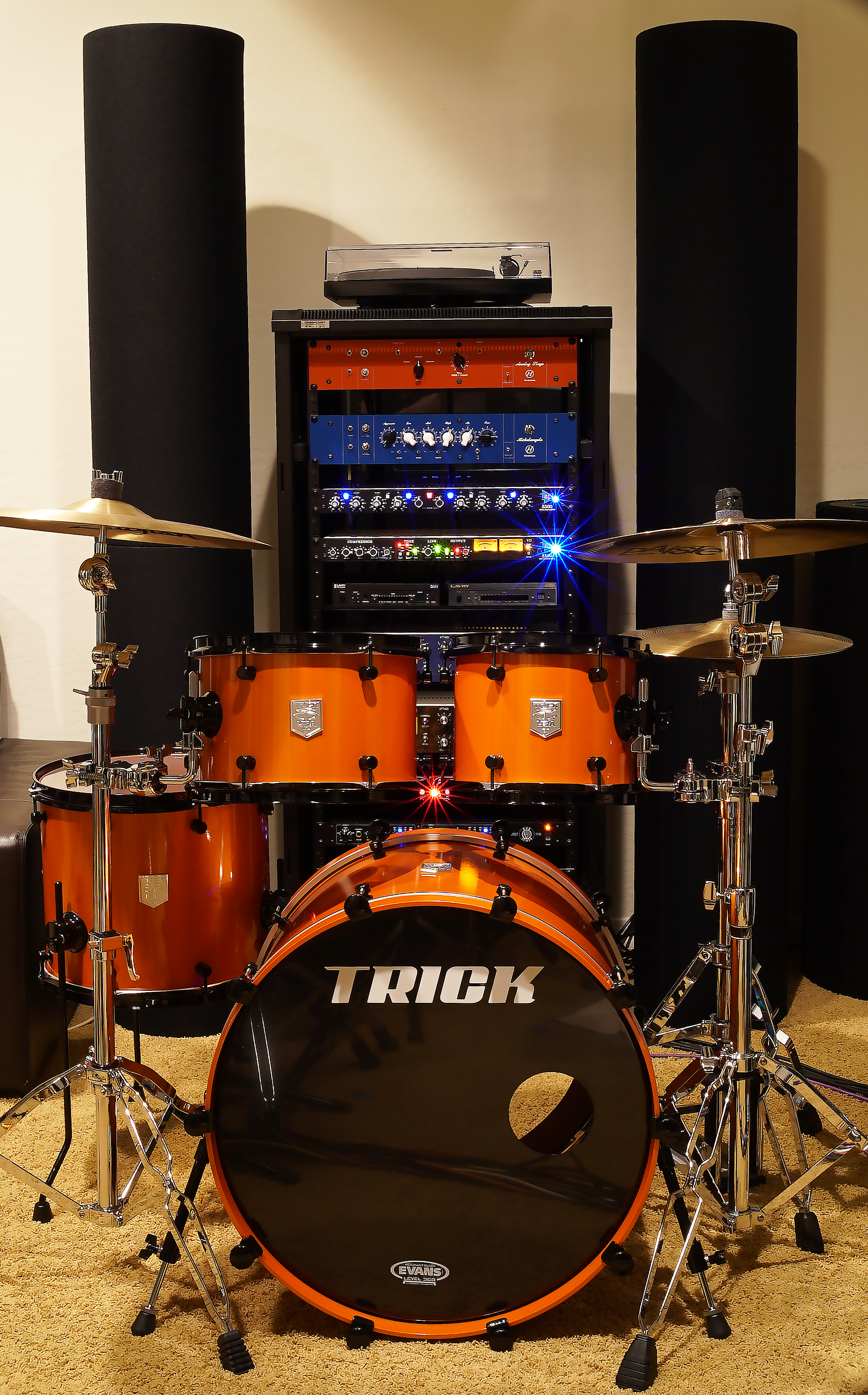 WELL-TUNED "WORKHORSE" DRUMS AND CYMBAL MODELS/BRANDS FOR ANY PRODUCTION
Being a tone freak myself, I have put a lot of time into drum tuning, and feel that it is an art in itself. After what seems like tens of thousands of hours tuning drums, I feel I can get practically any sound needed out of my current arsenal of drums. I own the well known staples like the famous Ludwig Black Beauty snare drum, and a few other rare and expensive items including the Tama Bell Brass snare drum. I have three full drum kits, but my main go-to is my limited edition Sonor Beech Infinite kit made in Germany. I also own a custom all-aluminium Trick kit and a custom ultra thin-shelled Keller kit. My hardware is primarily Sonor 600 and DW 9000 series.
As far as cymbals go, I play and own a variety of hand-picked (not from cymbal packs) Zildjians and Paistes, as well as Wuhan Chinas. I'm very picky about sticks and mostly play Vic Firth 7A and 5A sticks (wood tip only, as it sounds the most natural to my ears).
CONSISTENT DRUMMING PERFORMANCE WITH SPECIAL FOCUS ON TONE, TIMING, GROOVE, AND DYNAMICS
When approaching a song with a potential drum part, I always play for the music, and only contribute what I feel the music calls for. At the same time, I try to put my own stamp on the performance. When I feel like the part fits the song perfectly and sounds unique and distinctive at the same time, while having a sound heard nowhere else, I know I've done my job. Of course, I am open to revisions, but the above is my goal as a drummer, engineer, and producer. I am always looking out for the SONG as a whole.
In addition, I never utilize any kind of sample augmentation or replacement; there is no need with my tracks, even though many other high profile mixing engineers resort to sample replacement/augmentation when dealing with drum tracks handed to them. If you want the organic and distinct sound of a real drummer playing live drums, sample replacement/augmentation is taking a step backwards from that ideal, as it is not that drummer's own sound; it's someone else's, which will likely end up on many other recordings. You can rest assured that the sounds you are getting from me are 100% coming from my drums and my drums only. I don't take shortcuts in my productions.
As far as playing style, I strive to play consistently while striking the drums in a way to achieve the best tone for the particular piece. This is the best time and opportunity to capture a great performance and tone tailored for the song itself. Some songs call for a different feel, groove and dynamic; whatever the song needs. I play many genres and styles including rock, progressive, pop, soul/r&b, funk, jazz, jazz fusion, smooth jazz, electronic/synth-based, folk, bluegrass, country, reggae, ska, and others. I am also comfortable in odd and varying time signatures.
AN UNUSUALLY LARGE NUMBER OF OPTIONS IN POST-PRODUCTION/MIXING
In addition to the "roomless" drum tracks described above, I also offer an unusually wide variety of post-production delivery options, further expanding the supreme versatility of my drum tracks. The delivery method can go from very simple (stereo mix) to complex (multi-mic array including the ability to change overhead mics in post/during mixing from a vast collection of world class modeled microphones using the free Townsend Sphere Precision Microphone Modeling System plug-in available
here
).
I use three pairs of carefully placed overhead mics, which capture the entire kit in its full glory. One of pairs of microphones is a pair of Townsend Sphere L22 microphones, which, in conjunction with their software plug-in, accurately models many famous and sought after classic and modern microphones, right at your fingertips. Having used many of these fine mics myself in various studios over the years, I can tell you that the Sphere L22 does a great job at modeling them.
CONCLUSION
All of these attributes combined together, as described above, produce a product that is unparalelled in versatility; drum tracks that allow you or your mixing engineer relatively more sound options during the post-production/mixing phase. In addition, I can do this phase of the work for you as a simpler option, based on your feedback. It's all the same price.
You may contact me for more info, and yes, I will consider sending you a short sample of my tracks mixed with your music. Thank you, and I look forward to working with you!
Dominic Guss
SAMPLES
Folk Rock:
Fusion:
Jazz:
Rock Medley:
PRICING
$249 per song. Prices and services subject to change without notice. For examples and how to submit your music for consideration, you may contact us on our
contact page
.